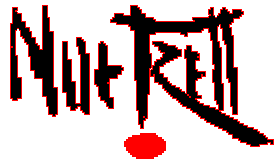 the art gallery of


albert nuetzel
This does not combine his finest work, but simply things I still have in my possession. For the most part these are examples of commercial work he did over the years. There are several paintings yet to be added, which will detail some of the better examples of his gallery art. Dad died in 1969, at 68, and had been a commercial artist all his life. Most of the time he worked for the motion picture industry, first in San Francisco, for Fox West Coast Theaters, then in Hollywood, for Pacific Title, which did the screen credit and titles for many motion pictures. During this time he did some science fiction magazine covers on a freelance basis, mainly to please his son, a fanatic sci-fi fan at that time. Years later, when he retired, he did quite a few pocket book covers--many for my own books. Along with all this commercial work there was the more serious art, little of which I still have. Some examples of his art are shown on this page.



ALIEN LANDSCAPE



This is a large painting done especially for me, and was designed to create an image that fit my personal tastes. But the arches are based on a sci-fi cover he did for The Magazine of Fantasy & Science Fiction.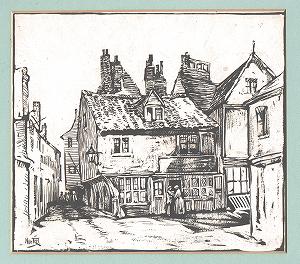 EUROPEAN VILLAGE
This is a pen and ink drawing dad did many years ago, I don't know when. But I found it in his collection of art. We especially loved this picture and have used it for Christmas Cards. It is a very small drawing, which hangs in or back room.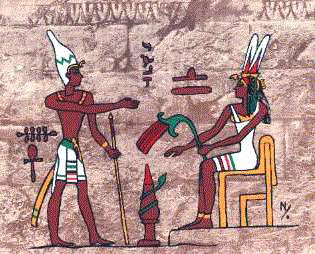 A series of silk screen pictures (twelve in all) were designed by dad, from a basic concept I suggested. The background was painted in spackle and then photo printed on a selected paper; then the silk screened drawing and colors were added. They sold in the thousands, I understand. The original silk screen runs were done by myself; though the later ones were handled by an outside production company. This was back in the mid-fifties, when Dad was developing a short lived business doing this kind of art for mass distribution.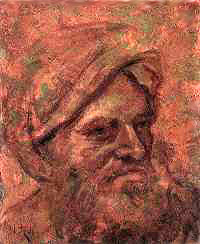 This is a picture which was done by dad in a very rapid, burst of creation. I don't know if he used a some picture to work from or designed it out of his head; but (other than the background) it was done in about 15 minutes. One our a pride and joys. Again, a very small picture around 7x10" in size.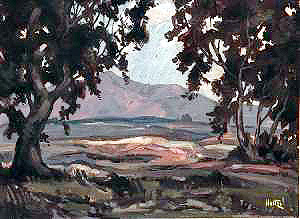 This is a sketch dad did apparently for developing as a mass production picture. I don't think anything came of it, other than ending up in his files, for that's where I found it. While it is rough, there is a certain charm about it; and in a way this is very much his style of painting, loose, free--creative by letting accidental effects stay put.
---

MOTION PICTURE ART:

---
HERE IS A SET OF PICTURES WHICH WERE SKETCHES FOR MOTION PICTURE TITLE BACKGROUNDS.
I don't know if they were ever used; I found them in Dad's files.
---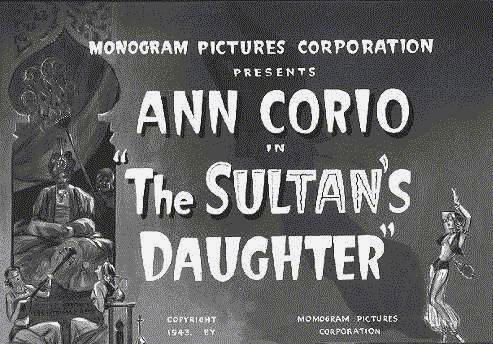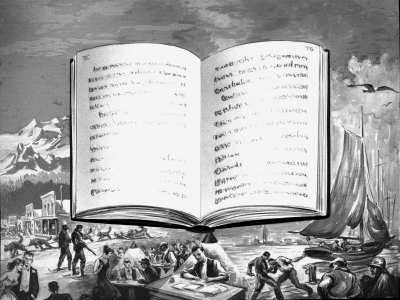 ---

COVER ART:

---
THESE ARE COVERS DAD DID FOR A SOME OF MY BOOKS.
---

This is a book I wrote under the name of Alec Rivere' and for which convinced the publisher to have Dad do the cover. It was not one he liked very much, but fans seemed to have liked, and a special house that makes post cards used tto for one of the cards
.
---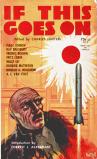 This is a collection of science fiction which I edited for Book Company of America, a short lived publisher. This had listed on the cover a Ray Bradbury story, but it was, by printer's fault, not typeset. I was never shown the book proofs and it was thus released without the Bradbury story in it. But quite a few other famous sci-fi writers had their stories in the collection, including Asimov, A.E.Van Vogt, Will Ley, Marion Zimmer Bradley, Fritz Leiber, Fredric Brown, to name only a few.
---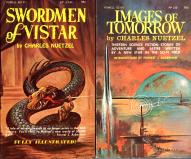 SWORDMEN OF VISTAR and IMAGES OF TOMORROW were two books I did for Powell Sci-Fi. The first was a fantasy-adventure novel, and the other was a collection of my shorter work, combined with a short novel called "The Ersatz" which had been published earlier under another name, then later translated in Europe.
---
DREAMER OF TOMORROW
This is based on an article published in Vertex Magazine of Science fiction, by Charles Nuetzel *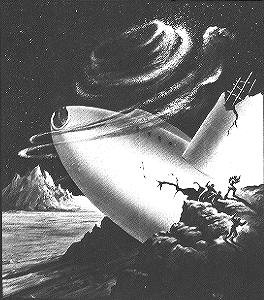 Albert Augustus Nuetzel (extra "l" was used to balance th "N" when signing a painting for covers) was a full-time commercial artist. Unlike many sci-fi artists, who start as fans, breaking into illustrating adn cover art in order to work their way into higher paying markets, Dad entered the field later in life, more as a side-line to please me.
The surprising fact is that Dad wasn't a sci-fi buff. He considered the idea of space travel to be the stuff of dreams, fantasy--it would never happen in his life-time, or in a hundred years--if ever! Yet he lived to see man reaching into space.
Art was a serious business to Dad. He believed a person should use his creative abilities to express beauty, offering something to others--not just to artists and a few select "experts"--and make money doing so!
But even though committed completely to this concept, he enjoyed painting pictures which people could hang on their walls. To quote him: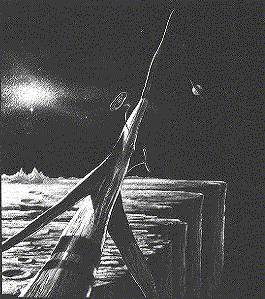 "The highest compliment which can be given a true artist is when a person is willing to pay hard cash in order to own a painting--a creative product--which was formed from colors, brush and canvas out of the feeling and emotions in his own being--mind."
In the beginning years he developed his fine art abilities, while making a living doing commercial art; and only after retirement did most of his efforts go to painting for galleries.
Dad was born in 1901, Jan. 18, and died somme 68 years later, mere weeks before Man landed on the Moon. At an early age his family brought him to California, where he spent the rest of his life. While working for his father, as a teenager, Dad went to art school school at night, learning the fundmentals of his craft. In Los Angeles, on June 27, 1931, he married Betty Jane Stockberger, daughter of a newspaper editor.
In San Francisco he worked for Fox West Coast Theaters, making oil paintings to be hung in the lobbies as "ads" for the current film playing at the theater--now they use printed posters for the same purpose.
During his free time he painted gallery art, and had showings in San Francisco, did movie ads for newspapers and designed a series of small pamplets for the California Missons. But beyond that and a few "faked" hard-cover jackets done late for motion picture title backgrounds (screen credits) he had little to prepare himself for magazine covers. In the early 40's he moved back to Los Angeles and worked for Pacific Title, where he did a lot of work for the movie industry.
In the early fifties Dad did some experimenting in sci-fi cover art, and the four black & white reproductions shown here [taken from the magazine layout for the Vertex article], are prime examples of the kind of work he did in those years for magazines.
In the last months of his life we were involved inputting together pocket books for publishers. There would have been at least 12 Nuetzell covers--the line was dropped after a year--if Dad's death hadn't aborted his efforts after the third book. Our concept was, at the time, to do large oil paintings (wrap-around covers--actually works of art to hang), the originals to be given to the authors.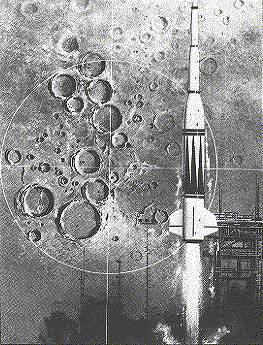 Between the first magazine sale and last pocket book cover he managed to produce around 40 covers. When he started sci-fi work, in the early 50's, it was considered impossible to break into the New York market from the West Coast. But he managed. By the mid 50's Dad was getting assingments from such magazines as Famous Monsters of Filmland, Amazing Stories, Fantastic Stories, Fantasy & Science Fiction--along with many pocket book commissions.
To me, personally, the final painting my father did--for my book Images of Tomorrow--combines both his commercial and artistic talents in the very finest level. It was my personal treasure, and I have the original hanging in my home. It was a final statement--a perfect combination of what he stood for as an artist. It said it all.
---
*The four black & whites pictures included within the context of this article are pictures sold to magazines. The first was his first sale to Science Stories, the second and forth were sold to Ziff-Davis for their sci-fi magazines Amazing Stories and Fantastic Stories, the third painting was published as a cover on Fantasty & Science Fiction. The last one I had designed totally, in concept, actually offering the scarp necessary to help him put the images together. I always, therefore, kinda liked that one.

---
Click here to see:
Page 2